Holiday Gift Buying Guide
Whether you're searching for a gift for someone you care about or just looking to add to your own collection of Salty Dog swag, you're sure to find what you're looking for on saltydogtshirt.com. Below, we've outlined some of our favorite gift suggestions for this holiday season. We are always here to help. Please call with any questions or concerns and our team will do our best to make this holiday season one to remember. 
Locations & Hours
Location
Phone
Hours
Salty Dog Online Store
877-725-8936
Mon-Fri 8:30am - 4:00pm
Salty Dog T-Shirt Factory
843-671-2232
Mon-Sun 9:00am - 9:00pm
Jakes Cargo
843-671-5022
Mon-Sun 9:00am - 6:00pm
Salty Dog T-Shirt Factory at Arrow Rd.
843-842-6331
Mon-Sun 9:00am - 6:00pm
Salty Dog T-Shirt Factory at Tanger 2
843-837-5511

Mon-Sat 9:00am - 9:00pm;

Sunday 10:00am - 7:00pm

*Holidays may affect these hours.*
Top 10 Gifts for 2018
1.) The Hanes® Beefy-T® is a classic favorite. Available in short sleeve and long sleeve versions and youth.
2.) The on-trend Comfort Colors® T-Shirt will surely be a favorite. Available in short and long sleeves.

3.) A lightweight Tri-blend t-shirt may not keep you toasty, but that won't matter once you feel the softness. Available in short sleeve and just added in long sleeve.
4.) Rain, snow, or shine our headwear will have you ready to tackle the day. Choose from beanies, caps, visors and everything in between.

5.) Beat the chill with some Salty Dog fleece. Available in crew neck and hooded.
6.) You simply cannot go wrong with our wide selection of sweatshirts, tri-blend tees, cotton tees, and full zip jackets for her.
7.) Check out these items for the kiddos! The Salty Dog exclusive EZTee®, the shirt that can't be put on backwards, is sure to be a hit! Also, check out our sweatshirts, sweatpants, hats, socks and more.
8.) Say "Cheers!" no matter the weather or time of year with our selection of coffee mugs, cups, glasses, and beverage insulators.
9.) They go by many names but the most accurate is "man's best friend". With choices from bandana, dog shirts, collars, leashes, and bowls, Fido will be begging for more.
10.) Get the angler on your list some Blue Water gear!
Honorable Mention
Socks! Crew cut or low cut. Crew cuts are available in youth as well.
Cook with us! Try your favorite Salty Dog recipes in the comfort of your own home with the Salty Dog Cookbook. Don't forget to use Jake Shake, Jake Spice, and Buffalo Sauce for that authentic taste.
Let them do the shopping with the Salty Dog Gift Card.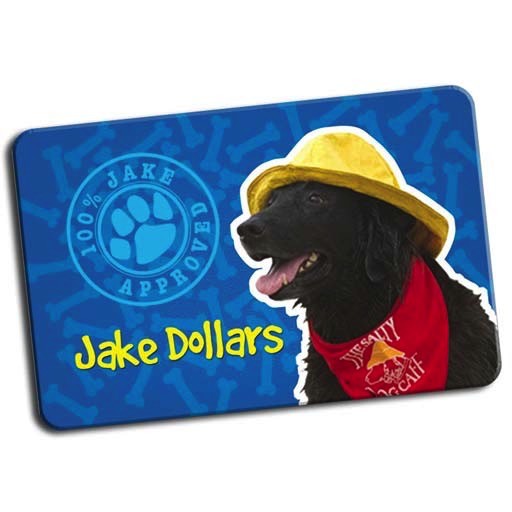 A phone wallet to keep just the essentials all in one place.